MCYSA is looking for new referees this season. We will be holding a certification class in March.
It may seem daunting to referee, but we start new referees out easy on the younger (U9/U12) kid games and work to help you improve on the field. For U12 and above the club does pay referees. The amount varies by age group and whether you center or are an assistant referee (AR) on the sideline.
Remember- without referees, the kids do not have soccer games.
If you are interested please contact Shannon Henning:
henningcrew@gmail.com
406-852-4860
---
Thank you to all who attended the meeting to organize spring rec soccer! More volunteers are needed so please contact us to find out how you can pitch in.
Open the Registration tab to sign up.
---
Public Meeting to plan and organize Spring Soccer
Parents of rec and competitive players, community minded volunteers - a
ll are welcome!
Fish Wildlife & Parks office
Thursday, February 15 at 6 pm.
---
LETTER FROM MCYSA PRESIDENT
February 6, 2018
Youth Soccer Parents & Supporters
RE: Upcoming Recreational Soccer season
Competitive teams are currently being formed for spring soccer and rec signups should be starting now. Sadly, we do not have the volunteers to take rec signups on, organize or manage the spring season.
In March of 2017, and summer of 2016, I sent letters to everyone on file with Miles City Youth Soccer via GotSoccer regarding the need for help and volunteers. In addition, for several seasons I have unsuccessfully advertised for the PAID position of rec coordinator. We are faced with the same issues to this day: We are woefully short of volunteer help to keep the programs going.
The minimal MCYSA Board is overloaded with the present work load, at risk of having to choose priorities, and questioning how long they can continue like this. We need a large pool of volunteers for behind the scenes business and work required to keep our programs going. There has been a steady decline in volunteerism, a continued decrease in the number of people that check a Volunteer item at registration, and an increase in those that 'just can't make it' when contacted if they did check a volunteer box. We are at a crossroads, perhaps a tipping point as we go into the spring season for 2018.
Unless a number of people join the Board, form working committees, fund raise, organize… Rec soccer will likely not happen this spring. We will look at fall only Rec soccer, but that would leave hundreds of kids without soccer in the spring. We typically provide soccer to over 400 kids each year through three seasons, spring, fall, and winter indoor, as well as summer soccer camps. If we get an ample number of volunteers the board will help organize them and the tasks to be done, and the Board will dole out specific jobs, but it will be up to new volunteers to get the work done. The choice is ultimately in your hands.
This is not something the Board is taking lightly, but we are faced with a dilemma, and truly are at a crossroads. We are not alone with this problem; it is a fact statewide for soccer and other sports and activities, including school programs. Your help truly is essential to your kids' success and participation.
If you are interested in applying for the Recreational Soccer Coordinator position, or if you would like to volunteer to help the Board and the Club make the Rec season happen please contact MCYSA at mcpossesoccer@gmail.com.
Sincerely,
Chad B. Sutter, President
Miles City Youth Soccer Association
PO Box 551
Miles City, MT 59301
---
COMPETITIVE SPRING REGISTRATION IS OPEN
U12 - U14 Players (born 2004 - 2006)
CLICK ON THE REGISTRATION TAB FOR INFORMATION AND ONLINE REGISTRATION LINK
---
The 2018 MYSA High School Scholarship application is due JAN 31!
This Scholarship is available to high school seniors only, that have played MYSA Club soccer for a minimum of 4 years or served as a referee for any club affiliated with MYSA for a minimum of 3 years. Applicants must plan to attend a two or four year accredited college or university or be accepted into a post-secondary apprenticeship or training program.
For the 2018 application, click here:
---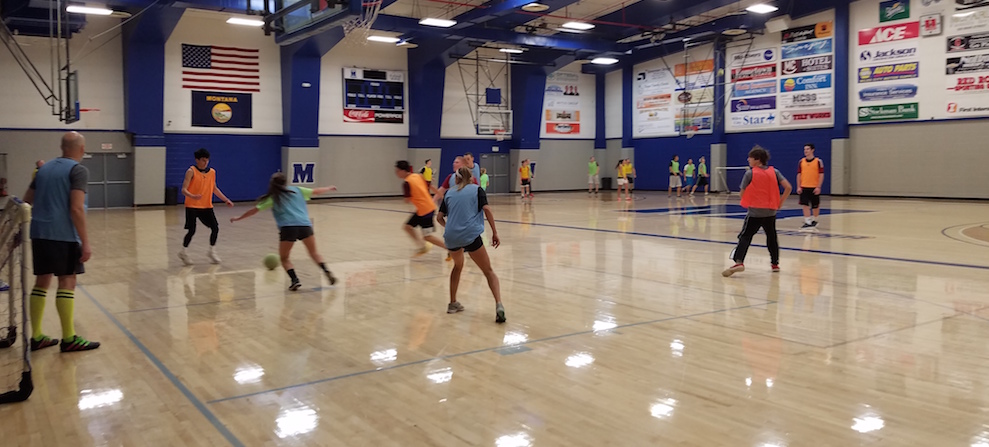 ---
CONGRATULATIONS to PATTY BLAQUIERE - MYSA Volunteer of the Year!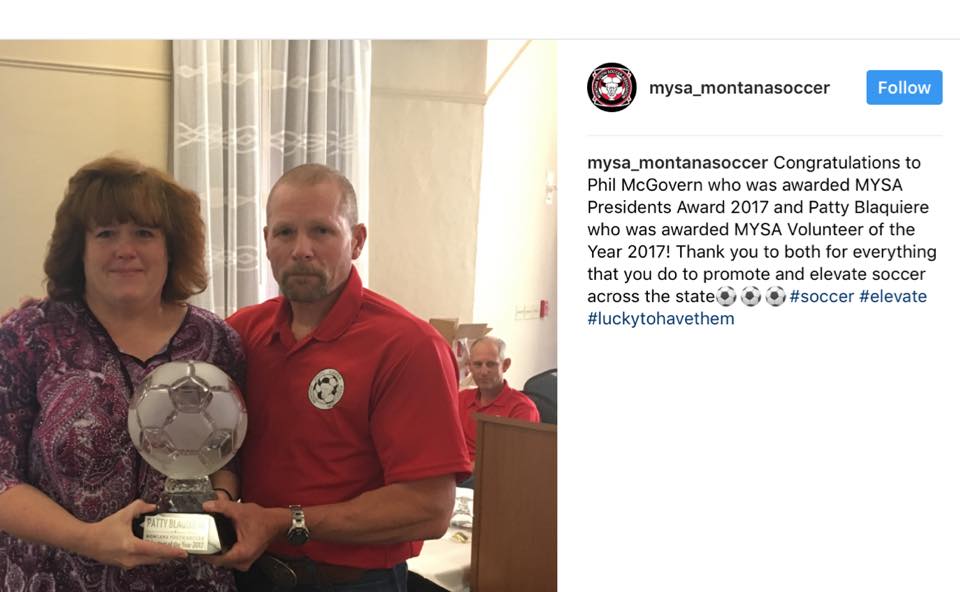 ---
British Soccer (ages 3-16) and TetraBrazil (ages 12-19) Summer Soccer Camps
Summer is quickly approaching, and it is time to get registered for British Soccer (ages 3-16) and TetraBrazil (ages 12-19) camps! Miles City Youth Soccer Association is once again inviting Challenger Sports to put on these amazing camps for our community. British and Brazilian coaches come completely prepared to provide your soccer players with an amazing week of soccer camp.
Camps will run July 31st-August 4th with half-day (9am-12pm or 4pm-7pm) and full-day (both times) sessions available.
Camps will take place at Bender Park in Miles City.
Camps are available for ages 3-19, with a new First Kicks camp (8am-9am) for 3-4 year old aspiring soccer players.
A FREE jersey is available for campers who register by June 16! All campers receive a ball and t-shirt at camp.
Please register EARLY to help us secure the maximum number of coaches for our campers.
Visit http://www.challengersports.com for complete details and to register for the right camp for your soccer player.
Contact our local camp coordinator, Keeli Muscha, with any questions or to hear more about camp. She can be reached at 406-579-2575 or keeli.muscha@hotmail.com.